One of the first things most people learn about diamonds is that not all diamonds are created equal. In fact, every diamond is unique. Diamonds come in many sizes, shapes, colors, and with various internal characteristics.
Understanding the 4 C's of Diamond Shopping
Selecting the perfect diamond for you starts with a little education.
Diamond professionals use the grading system developed by Gemological Institute of America (GIA) in the 1950s, which established the use of four important factors to describe and classify diamonds: Clarity, Color, Cut, and Carat Weight.
These are known as the 4Cs. When used together, they describe the quality of a finished diamond. The value of a finished diamond is based on this combination.
The 4Cs describe the individual qualities of a diamond, and the value of an individual diamond is based on these qualities. The terms that people use to discuss the 4Cs have become part of an international language that jewelry professionals can use to describe and evaluate individual diamonds.
Clarity
Diamond clarity is the assessment of small imperfections on the surface and within the stone. Surface flaws are called blemishes, while internal defects are known as inclusions. In most cases, a diamond's beauty is not affected by these in any way since most inclusions can't be seen with the naked eye. It's important to note that diamonds with the fewest and smallest inclusions receive the highest clarity grades—and higher price tags to reflect that.
Remember, all diamonds are unique, not perfect. They are made underground through enormous pressure and heat. Natural inclusions and blemishes are inevitable.
Diamond Clarity Spans 6 Categories With A Total Of 11 Clarity Grades
I1, I2, I3 Included Diamonds
SI1, SI2 Slightly Included (SI) Diamonds
VS1, VS2 Very Slightly Included (VS) Diamonds
VVS1, VVS2 Very, Very Slightly Included (VVS) Diamonds
Internally Flawless (IF) Diamonds
Flawless (FL) Diamonds


Diamond Clarity Descriptions
There are many misconceptions around the clarity of diamonds, including the belief that you need to buy a high clarity grade to avoid seeing imperfections. Another common falsehood is that a higher clarity grade results in more sparkle. Neither of these is true! Here are some tips to get you started on your diamond search:
The term "eye clean" means that the diamond's inclusions are too small to see without magnification.
A good place to start your search and maximize your budget is with Slightly Included (SI) and Very Slightly Included (VS) grades because inclusions will not be readily noticeable without magnification.
Diamond shape and size affect clarity. While clarity is less important than a diamond's cut or color, if you are buying a diamond over one carat or considering certain fancy-shaped diamonds (like an emerald or Asscher cut where flaws are more visible), you may want to spend more for a higher clarity grade.
Diamond clarity is an important characteristic that affects a diamond's beauty. Like all of the 4Cs, diamond clarity is an important consideration when buying a diamond. While clarity affects price, there are a number of factors that can help you decide which clarity grade is right for you.
Cut
Diamonds are renowned for their ability to transmit light and sparkle so intensely. We often think of a diamond's cut as shape (round, emerald, pear), but a diamond's cut grade is really about how well a diamond's facets interact with light.
All polished diamonds are valuable. That value is based on a combination of factors. Rarity is one of those factors. Diamonds with certain qualities are more rare—and more valuable—than diamonds that lack them.
Flawless diamonds are very rare—so rare, in fact, that it's possible to spend a lifetime in the jewelry industry without ever seeing one, and they command top prices.
At the other end of the scale are diamonds with inclusions that can be easily seen by the unaided eye. Between the two extremes are diamonds with inclusions visible only under 10X magnification. Stones in the middle range make up the bulk of the retail market.


Diamond Cut Descriptions
A beautifully finished diamond is dazzling, with every facet displaying the craftsman's skill and care. When a diamond interacts with light, every angle and every facet affects the amount of light returned to the eye. This is what gives it its face-up appearance.
The quality of cut is crucial to the diamond's final beauty and value. And of all the 4Cs, it is the most complex and technically difficult to analyze.
The GIA Cut Grading System for the standard round brilliant diamond evaluates seven components. The first three, brightness, fire, and scintillation, consider the diamond's overall face-up appearance. The remaining four, weight ratio, durability, polish, and symmetry, assess a diamond's design and craftsmanship.
BRIGHTNESS
Internal and external white light reflected from a diamond.
FIRE
The scattering of white light into all the colors of the rainbow.
SCINTILLATION
The sparkle a diamond produces, and the pattern of light and dark areas caused by reflections within the diamond.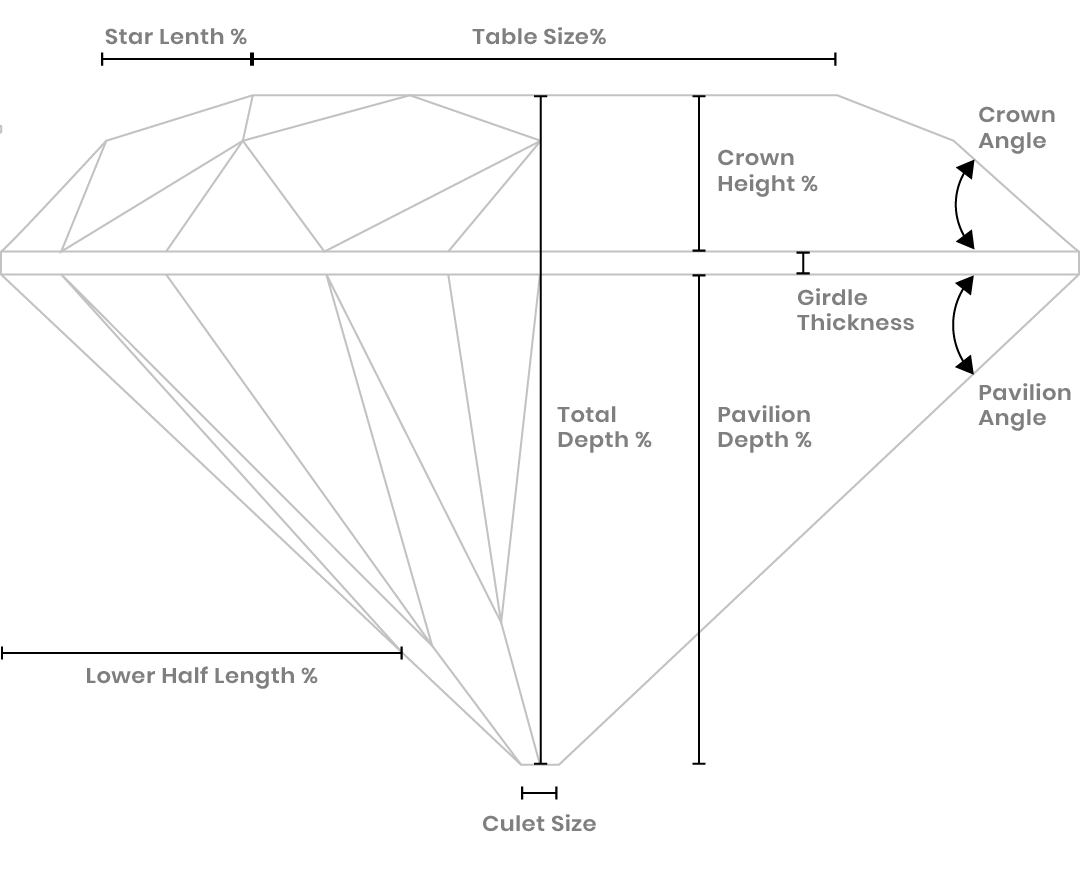 Color
Subtle differences in color can dramatically af­fect diamond value. Two diamonds of the same clarity, weight, and cut can differ in value based on color alone. Even the slightest hint of color can make a dramatic difference in value.
The GIA D-to-Z scale is the industry standard for color-grading diamonds. Each letter represents a range of color based on a diamond's tone and saturation.


Diamond Fluorescence Descriptions
Many diamonds emit a visible light called fluorescence when they're exposed to ultraviolet (UV) radiation. Although invisible to the human eye, UV radiation is everywhere. Sunlight contains it. Fluorescent lights emit it, too. Under the right conditions, you can see fluorescence in about 35 percent of gem diamonds.
In most cases florescence is simply an identifying characteristic and not a performance characteristic and is therefore NEITHER good nor bad. In some cases, strong or very strong florescence can make a diamond appear cloudy, diminishing its transparency and eye appeal.
Carat (Size)
Diamond carat weight is the measurement of how much a diamond weighs. A metric "carat" is defined as 200 milligrams.
Each carat can be subdivided into 100 'points.' This allows very precise measurements to the hundredth decimal place. A jeweler may describe the weight of a diamond below one carat by its 'points' alone. For instance, the jeweler may refer to a diamond that weighs 0.25 carats as a 'twenty-five pointer.' Diamond weights greater than one carat are expressed in carats and decimals. A 1.08 carat stone would be described as 'one point oh eight carats.'
 All else being equal, diamond price increases with carat weight, because larger diamonds are more rare and more desirable. But two diamonds of equal carat weight can have very different values (and prices) depending on three other factors within the 4Cs: Clarity, Color, and Cut. It's important to remember that a diamond's value is determined using all of the 4Cs, not just carat weight.